Repairs and new soles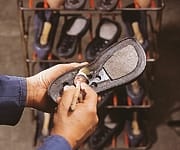 Are your outsoles worn, crooked or broken?
Original resoled
As good as new: The JACOFORM and Jaco Canadian repair service replaces worn, crooked or broken outsoles of our comfortable shoes with the original JACOFORM ( Jaco Canadian ) bottom of the corresponding model. The sole to be renewed is professionally cut off and a completely new floor is installed.
We offer this service ( original new soling ) for € 38,50 per pair.
We also offer the following repair service
| | |
| --- | --- |
| Replace or repair manual seam | € 20,50 |
| Small sewing works | € 9,50 |
| Renew cover soles | € 15,50 |
| Shoelaces ( pack of 5 ) | € 7,50 |
The prices are per pair and the repair time takes about 20 – 30 days!
The return takes place on account!
Please free ( sufficiently franked ) made packages / parcels,
with short message + sender + telephone number, to the following
adress:
Bioline GmbH
Meurerstr. 39-41
41836 Hückelhoven
Information about new soling:
When resoled, only the floor that was previously glued under the shoes can be attached.
A new soling of your comfort shoes should only be carried out once or twice at most, as the upper leather has to be sanded or roughened again with each soling. This reduces the strength of the material and the leather could crack. If the upper material is brittle or torn, resouling is unfortunately no longer possible.
Your JACOFORM Team